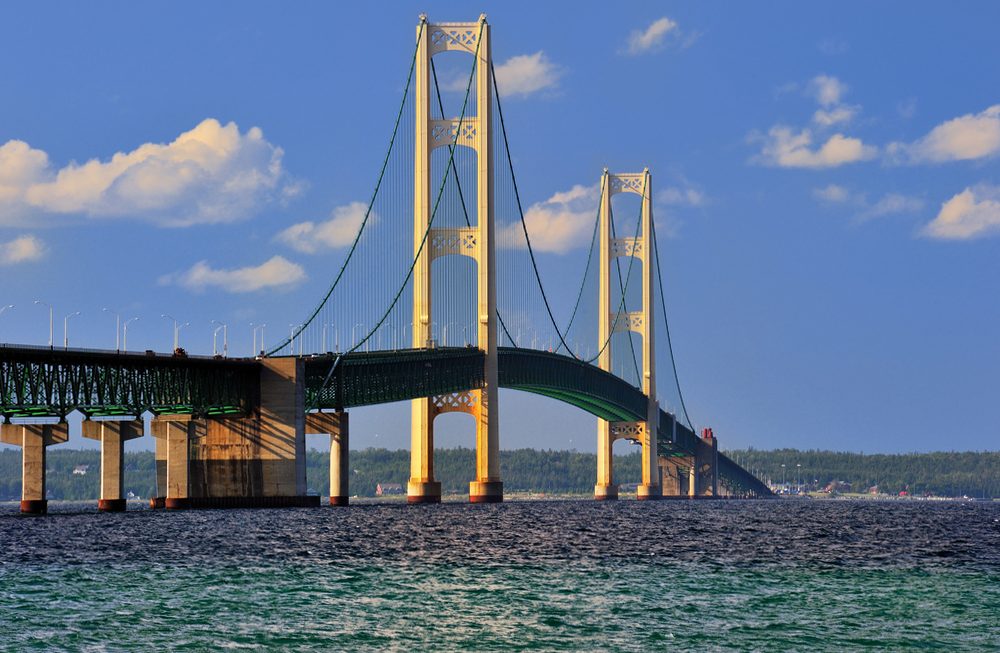 Coming to the Upper Peninsula doesn't have to mean sitting on your rental cabin's front porch and staring out at the lake for hours—unless that's exactly the kind of vacation you're looking for! But for more adventurous travelers, the region offers a wide selection of sights and activities. Silver Sands Resort is situated in one of the prime Michigan vacation spots, a close drive or ferry ride from all sorts of tourist attractions, including:
Mackinac Island, home to the beautiful—and fancy—Grand Hotel, which hosts formal dinners that are open to non-guests. You might recognize the Grand Hotel from the 1980 movie Somewhere in Time. Also on the island: the Wings of Mackinac Butterfly Conservatory.
Mackinaw City, where you can catch the ferry to Mackinac Island. Mackinaw City also has plenty of shopping, as well as a movie theater.
Mackinac Bridge, which connects Michigan's upper and lower peninsulas. The longest suspension bridge in the western hemisphere, Mackinac Bridge is especially beautiful at night. There's also a nearby museum.
The Deer Ranch, where you can feed live deer.
The "Mystery Spot," a tourist attraction with a gravity-defying twist—as well as a maze, mini-golf, and other activities.
Oswald's Bear Ranch, the largest bear ranch in the United States and home to 29 roaming black bears in four habitats.
Castle Rock—climb to the top and get unparalleled views of the Upper Peninsula.
Colonial Michilimackinac, a restored historic site complete with musket and cannon demonstrations, a Native American encampment, and an underground archaeological exhibit.
Fort Mackinac, a British-built fort used as a sentinel in the Straits for more than 115 years.
Crisp Point Lighthouse, built between 1903 and 1904 and open to visitors from June to October.
Historic Mill Creek, one of the first industrial sites in the Great Lakes region.
The Great Lakes Shipwreck Museum, which displays artifacts from ships and sailors lost in the Great Lakes waters.
Kewadin Shores Casino, a.k.a. "The Shores."
Many local golf courses—ask us for more details!
These are just a few of the attractions the Upper Peninsula region has to offer. When you choose Silver Sands Resort among the array of cabin rentals in Michigan, you can look forward to easy access to fun and informative side trips. Our region is ideal for history buffs, wildlife enthusiasts, shoppers and sightseers, families with kids, and anyone who loves the great outdoors. You don't even necessarily have to leave the city of St. Ignace, where Silver Sands Resort is located. Across the street from us, you'll find the St. Ignace Deer Ranch, while right in town Clyde's Hamburgers is your source for great food in a fun, kid-friendly 1950s setting.
When you're researching cabins for rent in Michigan, it's important to take location into account, and Silver Sands Resort's prime location can't be beat. We'll be happy to tell you about more local attractions and activities when you call to book your trip!